But I am so glad that I did. Not just because the books are back in print, but for the journey itself. If not for Hardman, I never would have launched Brash Books five years ago with my good friend Joel Goldman (with the invaluable day-to-day guidance of Denise M. Fields), and I never would have experienced the honor & joy of publishiing amazing new novels by Phillip Thompson, Leo W. Banks, Robert E. Dunn Phoef Sutton, Robin Burcell, Mark Rogers, Craig Faustus Buck, Michael Genelin, Warren Ripley, Gerald Duff, Jack Bunker, and Patrick E. McLean…as well as bringing back-into-print 80 other crime novels by some of the most talented and acclaimed authors in the business.
It's a big day for me, but I'm just getting started. There are more of Ralph's novels coming soon…and a lot more reprints and never-before-published new books representing "the best crime novels in existence." It a brash claim, and one I hope to keep making for a long time to come.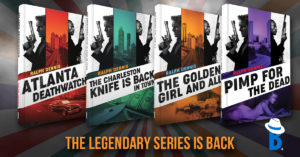 The post Mission Accomplished: Hardman is Back appeared first on Lee Goldberg.